Archived news/events

MINISTER FOR FOREIGN AFFAIRS
The Hon. Julie Bishop MP
18 September 2013
FIRST RESIDENT ASEAN AMBASSADOR
Foreign Minister Julie Bishop today announced Mr Simon Merrifield's confirmation as Australia's first resident Ambassador to the Association of South East Asian Nations (ASEAN), following approval of his nomination by ASEAN Foreign Ministers. Mr Merrifield will be based in Jakarta and take up his appointment on 20 September.
Australia's long history of cooperation with ASEAN encompasses trade and investment, security, transnational issues, development cooperation, social policy and people-to-people links through education, tourism and cultural exchange.
The ASEAN-Australia-New Zealand Free Trade Agreement (AANZFTA), in force since 2010, is delivering real commercial benefits for Australian exporters and investors. Australia's two-way trade in goods and services with ASEAN countries totalled around A$92 billion in 2012. Australia is also involved with ASEAN in the negotiations for a Regional Comprehensive Economic Partnership (RCEP) which also includes Korea, Japan, China, India, and New Zealand.
Mr Merrifield is a senior career officer with the Department of Foreign Affairs and Trade. Until June 2013 he held the position of DFAT Senior Spokesman and Head of Parliamentary and Media Branch. Mr Merrifield has extensive experience in ASEAN countries having served as Deputy High Commissioner to Malaysia, First Secretary, Jakarta and Second Secretary, Manila. He has lived in South-East Asia for a total of 13 years, including three years in Myanmar until 2011.
Mr Merrifield speaks Indonesian and Malay and is a graduate of the Australian National University's Asian Studies program. He is married with two children.

Visit by the Minister for Defence to Brunei on 28-29 August 2013
The Minister for Defence, Stephen Smith MP, visited Brunei on 28-29 August 2013 to participate in the ASEAN Defence Ministers Meeting-Plus (ADMM-Plus) being hosted by Brunei in its capacity as chair of ASEAN during 2013. During his visit Mr Smith held a range of bilateral discussions with regional partners. Ministers also had an audience with His Majesty the Sultan of Brunei.
The ADMM-Plus brings together Defence Ministers from the ten members of the Association of South East Asian Nations (ASEAN) and the eight 'Plus' countries of the East Asia Summit, namely Australia, China, India, Japan, New Zealand, Republic of Korea, Russia, and the United States. By involving all members of the East Asia Summit, the ADMM-Plus strengthens and deepens trust and cooperation on defence and security matters throughout the Indo-Pacific.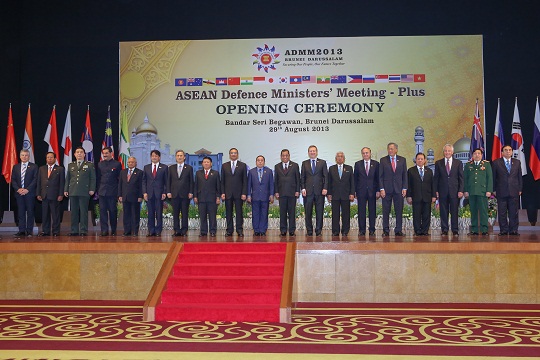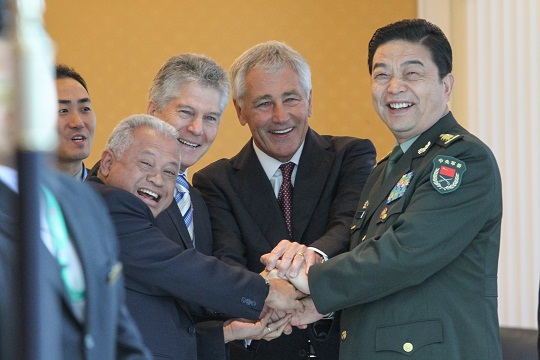 Australia and Brunei sign a Tax Information Exchange Agreement
On 6 August 2013, a Tax Information Exchange Agreement (TIEA) was signed between Australia and Brunei Darussalam. The agreement will allow the two countries to share information pertaining to tax issues, and is aimed at deterring tax evasion. A Bruneian spokesperson said the signing of the agreement reflected the sultanate's commitment to the implementation of the internationally agreed and accepted tax information exchange standards set by the Organisation for Economic Cooperation and Development. The ceremony was held at the Ministry of Finance and the TIEA was signed by Permanent Secretary Dato Paduka Hj Hisham Hj Mohd Hanifah and the Australian High Commissioner to Brunei Darussalam Mr Todd Mercer.
Australian Federal Election
The date for the Australian federal election has been announced for Saturday, 7 September 2013. The Australian High Commission will be open for in-person voting services from Monday, 26 August to Saturday, 7 September as per the following operating hours:
• 0800-1230 and 1330-1630 on Monday to Thursday (26-29 August and 2-5 September)
• 0800-1230 on Friday (30 August and 6 September)
• 0900-1230 on Saturday, 7 September
For up to date information on enrolling and voting while overseas, please visit the Australian Electoral Commission (AEC) website at www.aec.gov.au/overseas or contact the AEC via email (info@aec.gov.au) or telephone (+61 2 6273 8606).
Eid al-Fitr video message from the Foreign Minister
On 8 August 2013, the Australian Foreign Minister Senator Carr sent an Eid al-Fitr video message:
Minister for Foreign Affairs visits Brunei from 30 June to 2 July
The Australian Minister for Foreign Affairs the Hon Senator Bob Carr visited Brunei Darussalam from 30 June to 2 July to participate in the 20th ASEAN Regional Forum (ARF), 3rd East Asia Summit Foreign Ministers' Meeting and the ASEAN-Australia Post-Ministerial Conference. This was the first visit by an Australian Foreign Minister to Brunei Darussalam since 2002.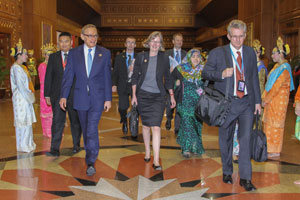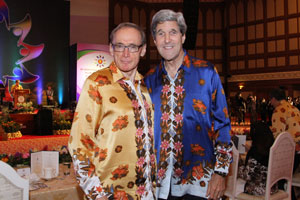 Olympian Dawn Fraser to Brunei - June 2013
Legendary Australian Olympian, Dawn Fraser AO MBE, made a visit to Brunei Darussalam in late June and was the guest of honour at a BBQ hosted by Australia's High Commissioner at his official residence. During her stay in Brunei Ms Fraser spoke with hundreds of young Bruneians about her sporting achievements and the role sport can play in promoting a healthy lifestyle.
Environmentalists Tim Jarvis and Amanda McKenzie visit Brunei - 3 June 2013
On 3 June 2013, the Australian High Commissioner hosted an informal lunch and lecture at his Residence with prominent Australian environmentalists Tim Jarvis, Shackleton Epic Expedition Leader; and Amanda McKenzie, Co-Founder, Australian Youth Climate Coalition. The event drew 60 people including Brunei's Minister for Development, Pehin Suyoi Osman, Deputy Minister for Culture, Youth and Sports, Datin Adina Othman, NGO representatives, government officials and youth. The focus of the presentations was 'Community engagement on environmental sustainability and tackling climate change: an Australian experience', and was followed by an interactive discussion with the audience. In addition to participating in this event arranged by the Australian High Commission, the guest speakers also participated in Brunei's National Environment Conference on 4 June.
International Women's Day event - 6 March 2013
On 6 March, the Australian High Commissioner, His Excellency Todd Mercer, hosted an afternoon tea to mark International Women's Day (IWD). The High Commissioner spoke about this year's IWD theme to end violence against women and girls in all its forms, and spoke of Australia's commitment to focusing on this issue while a member of the UN Security Council. He also highlighted the importance the Australian Government placed on working to ensure that all women have equal access to education, employment and opportunity. Recorded messages from the Governor-General, HE Ms Quentin Bryce AC CVO, and the Prime Minister, The Hon Julia Gillard MP, were screened during the event. The High Commissioner also read out a personalised message from the Governor-General in which she referred to the women's roundtable she co-chaired during her State visit to Brunei in October 2012. Datin Hjh Adina binti Othman, Deputy Minister of Culture, Youth and Sports attended as the Guest of Honour. Dr Sonali Pande, a Consultant Orthopaedic Surgeon, attended the event as the guest speaker, and delivered a presentation on the issue of osteoporosis. Other attendees included Bruneian women from a range of sectors, including government, civil society, sport and business.
Australia Day - 26 Jan 2013
The Australian High Commissioner to Brunei Darussalam, His Excellency Mr Todd Mercer, held a reception at his residence on Saturday 26 January to mark Australia Day 2013. More than 220 Australian citizens and Bruneians with connections to Australia attended. The High Commissioner spoke about the positive state of Australia-Brunei relations, and referred to highlight over the past year such as the visit to Brunei in October 2012 by Her Excellency Ms Quentin Bryce AC CVO. He noted that exchanges between the two countries would be intensified during 2013 while Brunei occupies the Chair of the Association of South East Asian Nations (ASEAN). The High Commissioner took the opportunity to encourage Australian citizens in Brunei to register on the Australian Government's Smartraveller website.
Visit by the Governor of New South Wales - 18 Jan 2013
The Governor of New South Wales, Her Excellency Professor Marie Bashir visited Brunei Darussalam from 18 to 20 January 2013. During her visit the Governor had an audience with His Majesty the Sultan of Brunei Darussalam during which she observed the very positive relations which exist between Brunei and Australia, and in particular New South Wales. She was also a guest of honour at the opening of the Big Ones Little Ones (BOLO) exhibition which will be on display at the Waterfront Gallery in Bandar Seri Begawan until 19 February 2013. BOLO is a visual art/education initiative founded by Australian Gallery owner Trish Amichi.
HMAS Sydney visit to Brunei - 3 Nov 2012
The Guided Missile Frigate HMAS Sydney has just concluded a four day port visit to Brunei Darussalam, the fourth and final port visit of her North and South East Asian Deployment.
On Monday 3 November, Sydney berthed at Muara Harbour after completing Exercise Penguin, an annual event that this year took the form of a Passage Exercise ('PASSEX') conducted with the Royal Brunei Navy Offshore Patrol Vessel Darulaman.
Later that night Sydney hosted an impressive Official Reception for 100 people, culminating in the performance of a traditional Ceremonial Sunset.
On Tuesday HMAS Sydney crew members planted donated potted vegetable gardens for disadvantaged young families in the Kampong Ayer Water Village, under the auspices of the Believe Youth Association.
During the visit, sailors enjoyed Brunei's excellent rugby and golf facilities, as well as taking on their Royal Brunei Navy counterparts at soccer and volley-ball.
Many of the crew also took the opportunity to go diving or attend tours, and while the ship has now departed, the impressions of this beautiful country are sure to remain with many personnel as HMAS Sydney returns home to Australia after two months away.
State visit to Brunei by the Governor General of Australia - 2 Oct 2012
The Governor-General of Australia, Her Excellency Ms Quentin Bryce AC CVO, accompanied by His Excellency Mr Michael Bryce AM AE, undertook a State visit to Brunei Darussalam from 2 to 4 October 2012, the first such visit by an Australian Governor-General. For further information on the visit, click on the below link then look at the October Archives:
http://www.gg.gov.au/
Parliamentary Secretary for Foreign Affairs The Hon Richard Marles MP visit to Brunei - 8 Aug 2012
Visit to Brunei Darussalam reaffirms strong bilateral relationship with Australia
Media release
8 August 2012
The strong relationship enjoyed by Brunei Darussalam and Australia was reinforced during meetings between Parliamentary Secretary for Foreign Affairs Richard Marles and senior Bruneian ministers in Bandar Seri Begawan.
"Today I met with Minister of Foreign Affairs and Trade His Royal Highness Prince Mohamed Bolkiah, Second Foreign Affairs and Trade Minister Pehin Lim Jock Seng and Brunei's Minister of Education Pehin Abu Bakar," Mr Marles said.
"The relationship is in good shape. During meetings with Prince Mohamed and Pehin Lim, we reaffirmed our long-standing bilateral relationship, underpinned by traditional strengths of education, defence and trade."
Parliamentary Secretary Marles also met with Minister of Education Pehin Abu Bakar during his visit.
"I am pleased that Australia remains one of the preferred destinations for Brunei students overseas.
" MOUs between Australian universities and the University of Brunei Darussalam (UBD), as well as joint arrangements between UBD's medical faculties and the University of Queensland, underpin Brunei's strong education linkages with Australia's tertiary institutions.
Media enquiries
Parliamentary Secretary's Office: (02) 6277 4330
Departmental Media Liaison: (02) 6261 1555

Minister for Foreign Affairs and Trade Senator The Hon Bob Carr MP
Media release
5 July 2012
Foreign Minister Bob Carr today announced Mr Todd Mercer would be Australia's next High Commissioner to Brunei Darussalam.
Mr Mercer will take up his appointment in August 2012, replacing Mr Mark Sawers who has been High Commissioner since February 2009.
He is a career officer with the Department of Foreign Affairs and Trade (DFAT) and is currently Counsellor and Deputy Head of Mission, Australian Embassy, Mexico. Prior to this, he was Director, WTO Regional and Free Trade Agreements Section. Mr Mercer served overseas as Deputy Head of Mission, Australian Embassy, Chile and Second Secretary, Australian Embassy, Mexico.
Mr Mercer holds a Master of International Studies from the University of Sydney, a Bachelor of Arts from the University of Western Sydney, and a Graduate Diploma of Arts from Monash University.
Australia and Brunei Darussalam share strong links in trade, law enforcement and agriculture. Australia is also the second largest provider of education services to Bruneians studying overseas and has a long-standing defence relationship with Brunei, including strategic dialogue and regular bilateral military exercises.
Two-way trade between Australia and Brunei totalled A$1.3 billion in 2010-11. Australia is now the 3rd largest export market for Brunei, with crude oil imports to Australian a significant part of this trade.
Australia and Brunei are partners in the East Asia Summit (EAS), the Association of South East Asian Nations (ASEAN) regional forum, and the bi-annual Asia Europe Meeting (ASEM) interregional forum. Australia looks forward to enhancing regional engagement with Brunei, particularly as Brunei assumes the chair of ASEAN and will host the EAS in 2013.
Media enquiries
• Minister's office: (02) 6277 7500
• DFAT Media Liaison: (02) 6261 1555